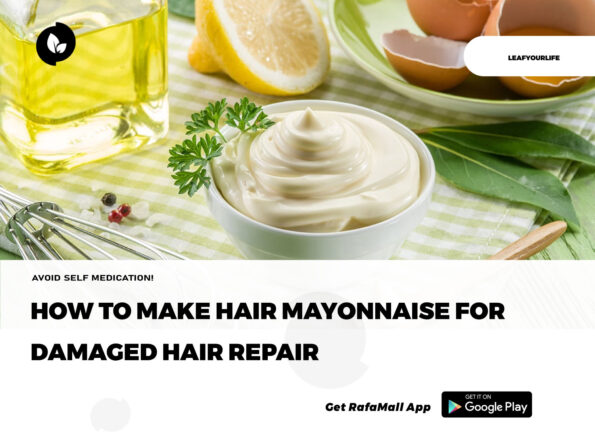 Hair mayonnaise is a popular DIY treatment for repairing damaged hair because it contains ingredients like eggs and olive oil, which are believed to be beneficial for hair health.
If your hair is in a deplorable state, it can help improve the condition of your hair.
Here's how to make and use a hair mayonnaise treatment:
Ingredients:
1. 1-2 eggs, depending on hair length and thickness
2. 1-2 tablespoons of olive oil or coconut oil (optional)
3. 1-2 tablespoons of honey
Instructions:
1. Prepare the mixture: In a bowl, combine eggs, olive oil and honey. Mix well until you have a smooth, creamy consistency.
2. Application: Before applying the mixture, make sure your hair is damp but not soaking wet.
You can either shampoo your hair and towel dry it or simply dampen it with water. This will help the mixture spread more easily.
3. Apply the mixture: Divide your hair into sections to ensure even application. Start at the roots and work your way to the ends, applying the mixture generously.
Be thorough, ensuring that every strand is coated.
4. Cover your hair: Once you've applied the hair mayonnaise, cover your hair with a shower cap or plastic wrap to keep the mixture from drying out.
5. Heat therapy (Optional): For a deeper treatment, you can use heat to help the ingredients penetrate the hair.
You can do this by wrapping a warm, damp towel around the shower cap or using a hair dryer on a low, warm setting. Leave it on for 15-30 minutes.
6. Rinse: After allowing the treatment to sit on your hair for at least 30 minutes, rinse your hair thoroughly with lukewarm water. You may need to shampoo and condition your hair as usual to remove any residue.
7. Style as usual: After rinsing, style your hair as you normally would. You can use this treatment once a month or as needed to help repair and moisturize damaged hair.
The eggs provide protein, the olive or coconut oil contains oils and fats for moisture, and the optional ingredients like olive oil and honey can offer additional benefits.

Original Article: PulseGhana