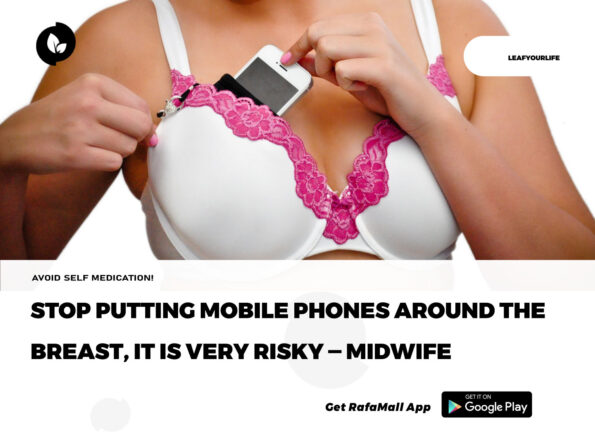 By Robert Tachie Menson
Dormaa Ahenkro (B/R), Nov. 02 GNA – A Mid-wife at the Dormaa Presbyterian Hospital, Madam Regina Amponsah, has advised women to stop putting mobile phones around their breast because that could contribute to breast cancer.
She said the habit was very risky because the vibration from the phone could heat up the breast area and prolonged heating may result in breast cancer. 
Madam Amposah made this known in an interview with the Ghana News Agency at the Dormaa Ahenkro in the Bono Region, after an event to climax the Breast Cancer Awareness Month of October at the hospital.
The event was organised by the hospital in collaboration with the George Gyewu Family Foundation, to sensitise the public on breast cancer, screening, and examination service.
She said the excessive intake of alcohol, smoking, obesity, and anti-ageing pills that contained hormones, particularly for women, were some other dangerous factors that could cause breast cancer.
Madam Amponsah observed that the lack of a Mammogram at the hospital was making it stressful for women who were to be screened in the area for suspected cases of the disease, since they must be referred to as far as the Regional Hospital in Sunyani, for accurate detection, confirmation, and diagnosis.
She made a passionate appeal to individuals and Non-Governmental Organisations (NGOs) to help the hospital acquire a mammogram to be able to render quality services to people in the area.
Madam Amponsah stressed that the hospital was extending breast cancer education at churches, durbars, local radio stations and one-to-one education to strengthen the spread of the information to the public to help reduce the number of breast cancer cases.
She declared that the feeling of hardened lump, blood fluid, and rashes at the breast and at the nipples were some of the signs and symptoms of the disease and advised women to report immediately to the hospital for appropriate medical care and early treatment.
GNA