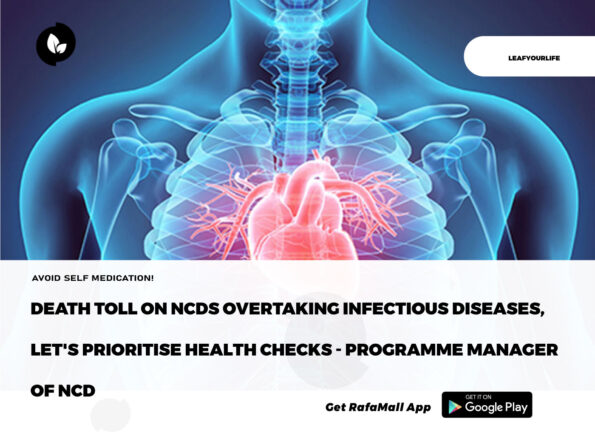 The National Programme Manager of Non-Communicable Diseases (NCD) at the Ghana Health Service, Efua Commeh, has cautioned the general public to be wary of NCD and its current dominance in the country.
She said it was time people started paying attention to these non-communicable diseases since they are increasing death rates in the country, especially among the younger ones, more than before.
According to her, unlike the former days when infectious diseases used to dominate when it came to the death toll, the trend is changing. She said it was very shocking that NCD like stroke, is attacking and killing more youth.
He said; "We used to witness an upsurge in infectious diseases like the common cold, influenza, stomach flu (gastroenteritis), hepatitis, diarrhea, tuberculosis (TB), etc. But nowadays, what see in domination is the NCD. This time it's even affecting younger people as compared to the olden days where old persons from Seventy to Eighty years were the ones getting a stroke etc".
According to her, Ghanaians' failure to go for regular check-ups to check their health status is what has led to the frequent and sudden deaths the country is experiencing.
She added that most of these shocking deaths come as a result of some hidden ailments that the person may not be aware of due to their failure to go for check-ups.
The experienced medical practitioner further disclosed that even cancerous diseases are preventable when it is discovered at their initial stages.
She said this during a sensitization program that was held in Kumasi to educate the participants on the need to be wary of non-communicable diseases (NCD), and how to prevent them.
The meeting, which was a maiden one, saw participants from the Ashanti Region, Eastern Region, Bono Region, Ahafo Region, etc.
According to Efua Commeh, the program was organized so that some patients and interested persons could get the opportunity to interact with the doctors and nurses who facilitated the program.
She said that apart from it being a health education, it was also meant to allow participants to come out with baffling issues they could not express at the hospital due to time factors.
She said, "The queue alone at the hospital puts so much pressure on patients that it wouldn't allow or give them enough time to express themselves. We therefore brought expertise, such as pharmacists, and specialists who cater to diseases such as sickle cells, diabetes, hypertension, etc., so that they could interact with the patients who couldn't have the chance to speak to them at the hospital. Through these interactions, the patients can get answers".
The medical practitioner said people must have prior knowledge of certain healthy tidbits so they can always prevent diseases instead of waiting to cure them.
Statistically, she said the NCD killed over 94,000 people in the year 2020, adding that those were the figures they recorded on people who visited various hospitals.
"Even these figures were recorded for those who attended the facility. We believe, many others did not come to the hospital but died as a result of NCD. Sometimes back, it was much lower, but nowadays we keep recording higher figures of NCDs from stroke, hypertension, and cancer across the regions", she said.
She further revealed that in 2022, over 600,000 patients with hypertension. She said over 200,000 diabetes were recorded, while more than 24, 000 cases of cancer-related diseases were recorded, emphasising that these numbers came from those who went to some facilities and were diagnosed.
For her part, Dr. Lydia Owusu Ansa who is the Ashanti regional coordinator for the Department of Non-communicable Diseases (NCD), advised the general public to desist from making check-up attendance a burden.
Expressing worry over the high rate of non-communicable diseases, the medical professional and regional coordinator said it was time people started adhering to these simple instructions on health.
She said non-communicable diseases such as stroke, hypertension, diabetes, pressure, etc. which were known to be associated with old people, have now turned to the youth, and this makes it very dire.
She said it was high time people desisted from accumulating sicknesses to the dire point before visiting a facility
Original Article: Ghanaweb